Organigram faigle Group
faigle
The faigle Group comprises the company's four sites in Europe and Asia. The international group specialises in manufacturing, processing and trading in engineering plastics and plastics solutions.
faigle is a development partner for both major original equipment manufacturers (OEMs) and smaller niche suppliers around the world. The company's service portfolio ranges from ideation to end-to-end development of production-ready products. Custom solutions are its strong point.
The company was set up in Hard, Vorarlberg in 1947 by Heinz Faigle. Wolfgang Faigle (CEO), Friedrich Faigle (COO) and Roland Bartenbach (CFO) make up the faigle Group's senior management team, and they are supported by the managing directors at the sites in Hard (AT), Au (CH) and Suzhou (CN).
Marco Blum, Roland Bartenbach, Wolfgang Faigle, Mario Maier, Friedrich Faigle, Tobias Wilhelm (from left to right)
Initiate solutions with holistic thinking
Successful in dialog since the beginning: That is why we attach great importance to intensive cooperation with customers and partners. As a partner with strong development skills, we recognize where the potential lies and create sustainable solutions - that's what the faigle group is all about. We think and act from practice for practice.
Expertise, competence, plastic experience and highly motivated employees - these are all factors which are an absolutely vital ingredient in the success of a company. However, we also offer additional qualities in order to set ourselves apart. Intensive and competent consultation and advice. Individual solutions that are cost-efficient and systematically implemented. Everything from perfect logistics to "just in time" deliveries. faigle employees bring a total commitment to quality in all areas of service and production.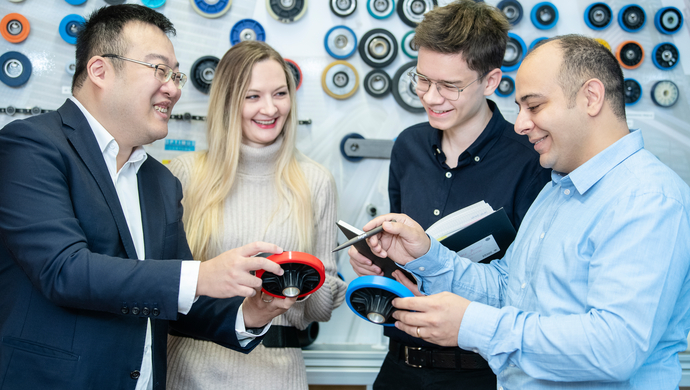 "Bold and innovative in everything we do, honest and open when working with one another – these values shape our philosophy and our day-to-day work. As a family business, we take a sustainable, long-term view – and we've been doing exactly that, successfully, for over 70 years."
Wolfgang and Friedrich Faigle
OWNER