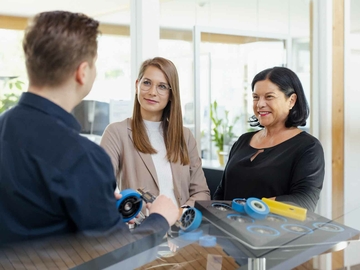 University students
Internships and dissertations
Internships and dissertations
An internship at the faigle Group gives you insights into the day-to-day operations of a niche world leader in tribology – the science of wear, friction and lubrication.
Don't worry, we're not looking for someone to make the coffee – you can look forward to gaining hands-on experience of the practical side of our business from day one.
If you're interested in an internship related to your degree, you can apply on our careers platform.
Or are you looking for an exciting topic and an attractive company to partner up with for your diploma thesis?

If so, we'd love to hear from you. Simply call our HR Assistant Sabrina Schmid and she will walk you through the next stage in the process. Thank you for your interest in faigle – we'll be in touch!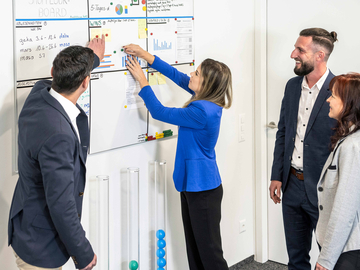 Graduates
You've got your degree – what now?
Vacancies
You have your degree certificate and now you need to start putting all of your theoretical knowledge into practice.
We regularly offer students and graduates attractive entry-level posts as well as jobs with excellent promotion prospects, where they have leeway to structure their work from day one.
faigle is particularly on the lookout for graduates of plastics technology, automation technology and industrial engineering degree programmes.
We're looking for people who can build on the theories they have learned to apply their expertise in practice. People who are willing to take on responsibility and roll up their sleeves.
Can't find anything suitable in our list of vacancies? Don't worry – sometimes an unsolicited application is all it takes!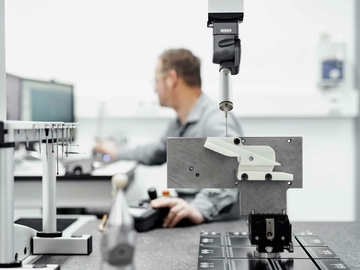 EXPERIENCED PROFESSIONALS
Find new challenges at faigle
Professional experience
You've been working for a few years now and you have plenty of experience under your belt. But what if many parts of your job have become repetitive, circumstances have changed or you just feel like moving in a new direction?
How about putting your experience and expertise to use at faigle?
We value people who have a passion for innovation and are willing to work with us to become the best.
To find out whether we can offer the sort of challenge that you're looking for, visit our vacancies page. If you can't find anything, we'd also be happy to consider an unsolicited application.

Experts
faigle aims to lead the way in innovation. And innovation requires not only creative minds, but above all in-depth, specialist knowledge.
Experts have comprehensive know-how, they can think laterally and take a systemic approach. In other words, they use their creativity to achieve continuous improvements. They help an organisation to manage its knowledge effectively and make that expertise available to others.
Are you a pro in a particular field? And would you like to play a part in our business?
Then check our list of current vacancies to find out whether we can offer the sort of challenge that you're looking for. If you can't find anything, we also welcome unsolicited applications.
Managers
As we see it, skilled managers have two main tasks: designing and enhancing organisational structures in their own department, and leading employees as well as inspiring them to achieve shared goals.
Our management principles lay the groundwork for achieving targets as well as for constructive collaboration.
We are looking for open-minded managers who take a long-term view and motivate their team by acting as a role model.
If you share our philosophy and are interested in taking your career in a new direction, check our current vacancies to see whether we can offer precisely the kind of challenge you're looking for.
You can also send us an unsolicited application.

Can't find a suitable opportunity?
Want to find out more about working at faigle? What areas interest you the most?