faigle Igoplast AG is the Swiss plastics specialist. Developing products made from high-performance plastics, like intralogistics system components, calls for extensive expertise and industry experience, often coupled with close cooperation with customers. In operational terms, these components stand out for their energy efficiency and durability, as well as setting new standards when it comes to sustainability.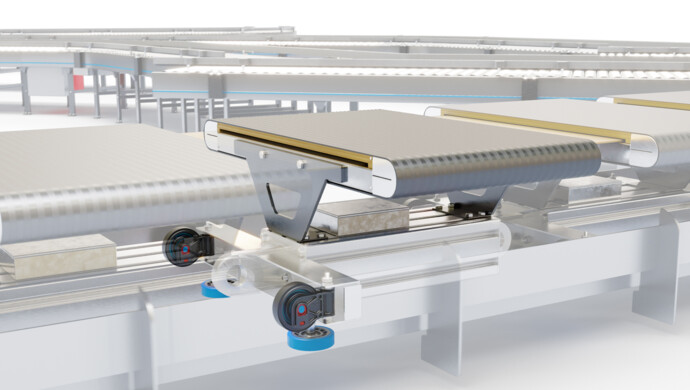 If intralogistics systems came to a standstill, so would everyday life: without them, the economy as we know it would grind to a halt. These systems are exposed to huge loads and need to deliver staggering levels of running performance, so reliable components are a must. And nobody knows that better than faigle Igoplast. The Swiss plastics specialist is part of the faigle Group, which delivers millions of wheels for warehouse logistics, sortation and conveying systems to big-name manufacturers all over the world every year.
Great performance – and good for the planet, too
faigle Igoplast's support and guiding wheels are the number-one choice wherever heavy-duty applications require a long service life. The advantages of faigle wheels also extend to the environment. Thanks to the wheels' resource-efficient, lightweight design, the facilities where they are deployed require less energy to make the wheels accelerate, and friction loss is also reduced. This means that faigle products are longer-lasting, which helps to reduce waste. Sustainability is also central to the company's latest product innovation. Made from biomass-based raw materials as well as recycled materials, the faigle ecoWheel is the first climate-friendly intralogistics wheel on the market.
Extensive product portfolio
And faigle Igoplast has even more to offer – from semifinished plastic products and machined finished parts to injection-moulded components and profiles. The company offers a comprehensive range of services, including development – often with the help of product simulations – as well as prototyping using 3D printing, and making the transition to volume production with the support of machining and injection moulding. Alongside extensive inventories, the facility in Au, Switzerland also offers the 1stCUT® service for cutting blanks, and planing and grooving. Customers looking for semifinished products will find many materials and a host of processing options in the company's webshop at shop.faigle.com; alternatively, visit www.faigle.com to view the full material range with the help of the online material finder. No matter what the product: when it leaves the factory, customers can count on receiving quality parts tested in accordance with faigle's factory standards, thanks to our in-house inspection and test lab.
Custom solutions
"We're proud of our ability to find a bespoke solution for virtually any challenge," says Athanasios Gogos, Head of Marketing and Sales at faigle Igoplast. Managing Director Friedrich Faigle adds: "Customers value our industry know-how and plastics expertise. In practice, we've often shown that our view from the outside helps to further optimise product designs. This is because our experts listen closely and pinpoint what our customers really need. With every order, finding the ideal solution and achieving the best possible result is top of our list of objectives."